Blue Jay Farm is a 360 acre private estate located in the foothills of the Ozarks. Ine the early 1900s Blue Jay Farm was established by Frank Wielandy, one of the founders of the Missouri Department of Conservation. He was so enchanted with the unique setting he purchased the property for his family and friends.
Today the Goodman Family, owners of Blue Jay Farm for almost 50 years, is opening the gate to share this treasure. Blue Jay Farm is the perfect setting for business retreats, small family reunions, or couples seeking a weekend getaway. Activities at Blue Jay Farm include hiking, swimming, fishing, canoeing, badmitton, ping pong, and the pleasure of relaxing in a beautiful natural setting.
Blue Jay Farm is a Bed & Breakfast, proudly featuring food items from local farmers. Enjoy Beyond Organic™ Butter and homemade preserves, local country fresh eggs, and Susie's signature pumpkin break. Choose the Goodman cabin for full served continental breakfast with homemade quiche.* First Cabin and Rock House have the fixings for a make your own breakfast.
* Have a gluten allergy, no problem. Susie can bake gluten free items.
New for Summer 2007! Free wireless internet available to all guests (not accessible in all cabins)
Please note that for the health of our guests, family, friends and the environment, Blue Jay Farm is a NON-SMOKING facility
Friendly Pets are welcome!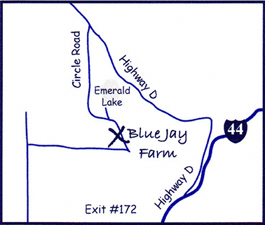 click on the map to make it larger!